Our regular readers will know that I've long been fascinated by coconut crabs. The world's largest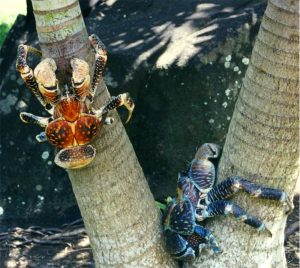 terrestrial arthropod (and thought to represent the upper size limit for land-dwelling creatures supported by exoskeletons), coconut crabs can grow to more than 3 feet in length. They can climb trees and crack coconuts. Their claws are as strong as a lion's jaws. They can live for up to 60 years. And now, researchers have evidence that their diet isn't limited to fruits, nuts, and scavenged carrion: they sometimes engage in predation, as well.
It has long been known that the crabs will feed on meat, when they encounter it; in a 2007 experiment, coconut crabs made short work of a small pig carcass, quickly stripping its flesh and scattering the bones. Persistent rumors suggest that a dead or wounded Amelia Earhart may have suffered a similar fate. Researchers now have direct evidence, though, that coconut crabs will not only consume dead animals they come across, they will sometimes go on the hunt themselves.
This Washington Post article describes researchers' encounters with coconut crabs that have hunted (and fed on) seabirds:
[N]ow, finally, we have video evidence that the crabs — thousands strong on one island — can scale trees and hunt full-grown birds in their nests.

[…] After about a month on the island [in the Chagos archipelago], in February of 2016, [Dartmouth biologist Mark Laidre] investigated a giant crab's underground lair. "Deep inside the crab's burrow was the carcass of a nearly full-grown red-footed booby," he wrote. This was Laidre's first sign that the stories might be true, that giant crabs really were hunting birds. He had his proof a month later.

"In the middle of the night," Laidre wrote, "I observed a coconut crab attack and kill an adult red-footed booby."
You can see some footage from this encounter in the video below.