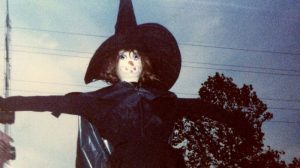 Ask an old-timer to recount the Chicago Halloweens of their youth, and they'll likely describe all the familiar trappings: jack-o'-lanterns, bobbing for apples, candy and costumes for the younger children and mischief and alcohol and perhaps a bonfire or two for the older ones. But they may or may not also mention another peculiar tradition, one that you certainly wouldn't expect to find in an urban environment like the Windy City and are not likely to see anywhere else, for that matter: witch burnings. Just as strange as the tradition itself is the fact that it is now almost entirely forgotten.
As a 2018 investigative retrospective in the Chicago Tribune reports:
Details are spotty, photos are tough to come by, but in many neighborhoods and suburbs around Chicago, from the early 1930s until the late 1980s (and later in some places), Halloween wasn't Halloween without a witch burning. And yet today it's a tradition so forgotten that local historians, folklorists and urban history professors were alternately repulsed and dumbfounded to learn it happened. Julia Sniderman Bachrach, former historian for the Chicago Park District, said: "Burning witches in Chicago parks? OK, now I'm thrown for a loop."
No real witches were burned, of course — rather, people set fire to witch effigies, often made of papier-mache and stuffed straw, painted Wicked-Witch-of-the-West green. In some cases, the effigies themselves weren't actually burned and instead were saved for reuse year after year (makeshift coffins, purportedly containing the witches, were incinerated instead). These witch burnings often served as the climax of a Halloween evening.
In Chicago, witch burnings centered on the south side; they could also be found in suburbs such as Schaumberg, Lisle, and Berwyn. The tradition appears to be unknown outside of the Chicagoland area, at least within the context of 20th century American Halloween celebrations. Some analogs (and, perhaps, precursors) persist overseas. For instance, Prague's "Witches Night," or Pálení carodejnic, burns witch effigies annually on April 30 to mark the end of winter. Similarly, November 5 sees Guy Fawkes effigies burnt across England to commemorate the failure of the Gunpowder Plot.
Chicago's tradition began to decline in the 1980s. The Chicago Tribune suggests that around this time, activist Wiccan and pagan groups started to protest the practice. Willowbrook, for instance — a Chicago suburb — discontinued its Halloween witch burnings following testimony from members of a witches association at its village board meeting. (Others point out that the decline may relate to the racial turnover of neighborhoods: "I'm trying to find a polite way to put this — I would be surprised if burning witches would have gone over too well in those black communities.") While some parts of the Chicago area saw witch burnings continue into the late 1990s, you would be hard pressed to find one anywhere today.