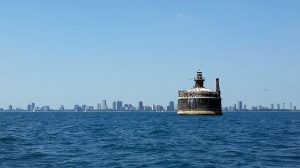 In 1885, devastating outbreaks of cholera and typhoid claimed the lives of 90,000 people in Chicago. To this day, news stories and popular histories point to the epidemic as the reason for a number of infrastructure and public health reforms in the Windy City. The only problem? It never happened.
On first glance, the story might make some sense. Chicago draws its drinking water from Lake Michigan. According to the myth, a prodigious rainstorm that year washed sewage and refuse into the lake, contaminating the city's intakes and leading to the outbreak. Supposedly in response to this, the city established the Chicago Sanitary District and, in 1887, embarked on its herculean effort to reverse the flow of the Chicago River itself.
Wikipedia provides a concise refutation of this entire narrative:
Analysis of the deaths in Chicago [in the 1880s] shows no deaths from cholera and only a slight rise in typhoid deaths. In fact, no cholera outbreaks had occurred in Chicago since the 1860s. Typhoid deaths never exceeded 1,000 in any year in the 1880s. The supposed 90,000 deaths would have represented 12% of the city's entire population and would have left numerous public records as well as newspaper accounts. Libby Hill, researching her book The Chicago River: A Natural and Unnatural History, found no newspaper or mortality records and, at her prompting, the Chicago Tribune issued a retraction (on September 29, 2005) of the three recent instances where they had mentioned the epidemic.
It's fascinating how such a story — despite a complete lack of evidence — can enter the popular consciousness and reproduce itself for decades. What other urban legends do we breathlessly retell, without pausing to consider that they might not be true? What other "historical episodes" never really happened at all?