China's Yutu-2 ("Jade Rabbit") moon rover, the first to land on the far side of the moon, has been exploring the lunar surface since 2018. To date, the rover has been used to study the moon's composition and interior structure. Now, it has been dispatched on a curious side quest: investigating a strange object spotted in the distance.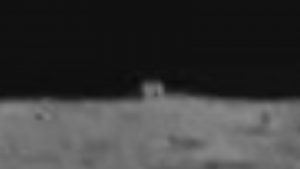 From Smithsonian Magazine:
An intriguing cube-shaped object spotted on the far side of the moon has attracted the attention of scientists.

China's Yutu 2 rover captured images of the mystery structure from around 260 feet away while navigating across the Von Kármán crater in the South Pole-Aitken Basin on the moon, reports Popular Science's Margo Milanowski. Chinese scientists have already rerouted the rover to take a closer look, but it will take a few months for Yutu 2 to reach the bizarre lunar feature.

The shape was spotted on the horizon in November during the mission's 36th lunar day, according to a Yutu 2 diary published by Our Space, a Chinese language science outreach channel affiliated with the China National Space Administration. Our Space first described the object in a post last week, temporarily dubbing it a "mystery hut" (神秘小屋/shenmi xiaowu).
Mysterious indeed. Of course, as Inverse reports, the object in question is almost certainly just a boulder.