We're all readily familiar with that ubiquitous personification of the United States, Uncle Sam. What is largely forgotten today, however, is that he was hardly the first such national symbol. In fact, Uncle Sam had several predecessors — perhaps most notably the post-Revolutionary War-era character "Brother Jonathan."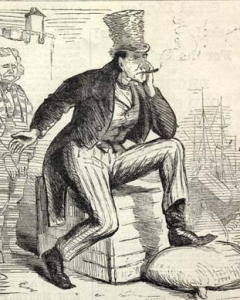 From Atlas Obscura:
He was ill-mannered and ill-spoken—a boor, a braggart, a ruffian, a bigot, a hick, and a trickster. His name was Brother Jonathan.

Today he is all but forgotten—eclipsed by his upstanding uncle, Sam. But after the Revolutionary War, Brother Jonathan was the personification of the newly independent American people: clever, courageous, not all that sophisticated and proud of it. He was the everyman incarnate. It was the everyman who had led America to victory. And now America looked to the everyman to lead them out from the bloated shadow of Great Britain.

Brother Jonathan was a rustic New Englander who was depicted at various times on stage as a peddler, a seaman, and a trader, but always as a sly and cunning figure. He began to show up in political cartoons in newspapers and magazines during the early part of the 19th century as new and cheaper printing methods developed. It was at this point that American cartoonists transformed Brother Jonathan from a figure of derision into one of patriotic pride.
Scholars and historians disagree about the origins of Brother Jonathan:
The term appears to date to the English Civil War, when it was applied derisively to the Puritan roundheads. […] It is probably derived from the Biblical words spoken by David after the death of his friend Jonathan, "I am distressed for thee, my brother Jonathan" (2 Samuel 1:26).

A popular folk tale about the origin of the term holds that the character is derived from Jonathan Trumbull (1710–85), Governor of the State of Connecticut, which was the main source of supplies for the Northern and Middle Departments during the American Revolutionary War. It is said that George Washington uttered the words, "We must consult Brother Jonathan," when asked how he could win the war. That origin is doubtful, however, as neither man made reference to the story during his lifetime and the first appearance of the story has been traced to the mid-19th century, long after their deaths.
It's worth noting, of course, that even Brother Jonathan had predecessors: even earlier personifications of America include Columbia and Lady Liberty.