…was not on some obscure Usenet system or bygone bulletin board. It occurred, according to the Smithsonian, in a letter to Winston Churchill dated September 9, 1917 (more than 100 years ago!). The letter, written by British admiral Lord Fisher, includes the now-famous acronym in its final line: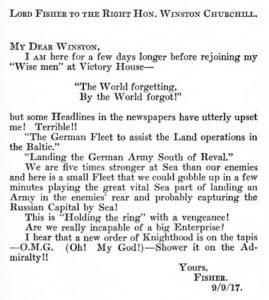 Apparently there are two exclamation points in "omg"!
Other internet acronyms are much more recent coinages. The first documented instance of "LOL," for example, dates back to a May 1989 issue of an online newsletter (still available here). Said newsletter includes the following guide to "colorful communicating" on the internet:
     OLM  - On Line Message          OTW  - On The Way
     OIC  - Oh I See                 H    - HUH???
     BTW  - By The Way               LOL  - Laughing Out Loud
     ROTF - Rolling On The Floor     RAO  - Rolling All Over
     LMTO - Laughing My Tush Off     BRB  - Be Right Back
     AFK  - Away From Keys           BBL  - Be Back Later
     BAK  - Back At Keys             WLCM - Welcome
     BCNU - Be Seeing You            L8R  - Later
     ODM  - On De Move               OTB  - Off To Bed
     LTNT - Long Time No Type        TTFN - Ta Ta For Now
     RE   - Again (Greetings, as in "re-hi")
     LTNS - Long Time No See
     M/F  - Male or Female (also known as 'MORFING', as in
     "Oh no! I've been morfed!!")
Some of these terms, of course, are still in use, while others never really took off.