Related to yesterday's post is another harrowing true story about a mysterious body of water in the middle of a vast desert. Unlike that inexplicable Tunisian lake, though, the origins of this hidden swimming pool are no enigma: it is the work of an artist named Alfredo Barsuglia, who "created the minimalist sculpture to nod to other monumental works of desert-bound land art."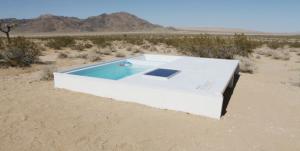 Writes Gizmodo:
GPS coordinates can be obtained, along with the key, by visiting the MAK Center for Art and Architecture in West Hollywood, where the Austrian-born Barsuglia was a fellow last year. You can't call to see if the key is there, and you can't reserve it ahead of time. Of the destination, the artist will only say that it requires "several hours of driving from Los Angeles, plus a willingness to walk a long distance to reach the pool from the nearest road."
What fun! Quirky, playful installations like these make the world a more interesting place. You can read more
here
.