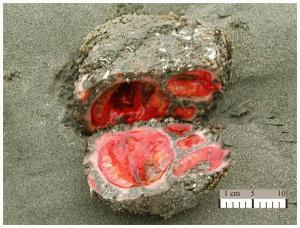 Known among the scientific community as Pyura chilensis, this critter filters nutrients from the water, much like a barnacle or sponge. Stranger still:
it[ has] clear blood[, which] mysteriously secretes a rare element called vanadium. Also, it's born male, becomes hermaphroditic at puberty, and reproduces by tossing clouds of sperm and eggs into the surrounding water and hoping they knock together.



According to Scientific American, P. chilensis "belongs to the Ascidiacea class of non-moving, sac-like marine invertebrate filter feeders that are otherwise known as sea squirts."
Credit for this critter goes to
grist
.