It's located near the Xisha Islands (also known as the Paracel Islands) in the South China Sea.
(Blue holes are underwater caverns or sinkholes, typically formed in shallow seabeds made of carbonate rock such as limestone. They can be hundreds of feet deep, and much deeper than surrounding waters, leading to dramatic photographs as seen here.)
From CBS: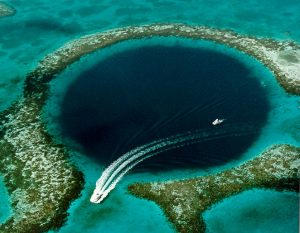 A new exploration of a legendary blue hole in the South China Sea has found that the underwater feature is the deepest known on Earth.

According to Xinhua News, Dragon Hole, or Longdong, is 987 feet (300.89 meters) deep, far deeper than the previous record holder, Dean's Blue Hole in the Bahamas.
Read more here!