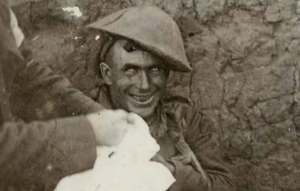 As we continue to face down the coronavirus, and begin to use our time in quarantine to ponder its possible long-term consequences, Vice.com reports on an unexpected side effect of similar disease outbreaks.
In flu pandemics of years past — such as the Spanish Flu of 1918 and the 1889-90 influenza — a few doctors noted something striking. Specifically, they observed that a significant number of patients developed symptoms outside the normal set associated with influenza: hallucinations, mental disorders, psychosis. Sophisticated contemporary research lends support to these observations, finding evidence of a connection between the flu and schizophrenia. (For instance, children of mothers who had the flu while pregnant appear substantially more likely to develop schizophrenia later in life.)
Check out an excerpt from Vice's article below:
While today, we consider viral infections to be diseases of the body—they infect the lungs, give us fevers, stuffy noses, or a cough—throughout history there's also been a strange link between influenza and psychotic disorders similar to schizophrenia, a severe mental disorder that can affect how people think.

By 1919, the Spanish Flu pandemic had spread influenza to a third of the world's population, or around 500 million people. Psychiatrist Karl Menninger was treating people at Boston Psychopathic Hospital who'd recently been infected. But his patients had symptoms far beyond what's usually associated with the flu. In a paper on 100 cases he saw over three months, he described seeing extreme mental disturbances—over half of his patients had some sort of psychosis, and almost two-thirds had hallucinations.

After outbreaks of influenza in St. Petersburg, Russia, in 1889, people experienced insomnia, depression, suicidal thoughts, and homicidal urges. One neurologist wrote that it wasn't uncommon for people with the flu to feel "dark forebodings of…impending disaster" or to think they had committed a "fearful crime" and were about to be punished.
You can read the full article here.