Spotted in a pond in Chicago's Humboldt Park: a four-to-five foot long crocodilian. The latest Chicago-area gator-sighting since a four-footer was found swimming in Lake Michigan last October, residents observed the reptile earlier this afternoon and Chicago Police and Animal Care and Control — though skeptical at first — later confirmed the report.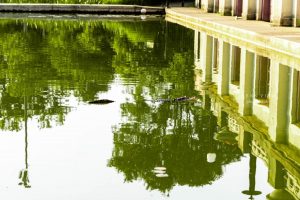 From the Chicago Tribune:
Chicago officials confirmed an alligator was living in Humboldt Park Lagoon after several people reported seeing the animal there Tuesday morning and others shared possible photos of it.

Chicago police were called to the 1400 block of North Humboldt Drive about 12:15 p.m. after someone called 911 "saying they saw a Facebook post saying there is an alligator in the lagoon area," said Chicago police spokeswoman Karie James.

Police had "independently confirmed the alligator is in the lagoon and state reptile specialists" said it was 4 to 5 feet long, police spokesman Anthony Guglielmi said in a tweet. The animal was expected to be trapped Tuesday night "and relocated to a zoo for veterinary evaluation."
Sounds like the makings of a summertime blockbuster! Hopefully the alligator will be captured and relocated without too much fuss.