Some time ago we wrote about the
greatest "order pizza to a stranger's house" prank
ever played; today, we bring you the tale of one of the greatest April Fool's Day hoaxes of all time.
An Alaskan prankster named Porky Bickar was notorious for one-upping himself. He once used "a backhoe to drop an entire tree in the middle of a friend's driveway"; placed "plastic flamingoes in trees to confuse tour boats looking for wildlife"; and held "a chainsaw sale at his store -- one for the price of two!"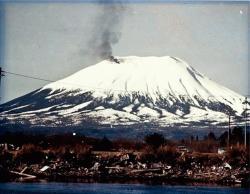 The crowning achievement of his pranking career, though, came on April 1, 1974. On that day,
Porky and several mischievous friends chartered a helicopter to fly them into the crater of Mount Edgecumbe, a long-dormant volcano near Sitka, Alaska. They brought with them nearly a hundred old tires and several gallons of kerosene. In short order, they set the tires ablaze, and the ensuing cloud of billowing black smoke convinced many nearby townsfolk that the volcano was rumbling back to life (pictured at right).
The prank succeeded beyond Porky's wildest dreams. News of it got picked up by the Associated Press and ran in papers around the world.

The reaction of people in Sitka, once they realized the volcano wasn't really erupting, was almost uniformly positive. Even the Coast Guard wasn't too mad about the stunt. Porky met the Admiral years later at a Fourth of July party. As the Admiral walked over to meet him, Porky was afraid he was going to be chewed out, but instead the Admiral told Porky he thought the prank was classic.



You can read more about Porky's classic prank
here
.